University Park Subdivision
This is a private subdivision located in University City, Missouri
It consists of 840 lots
University Park Subdivision ranks as the largest private subdivision in the state of Missouri
The Subdivision includes approximately 4 ½ miles of streets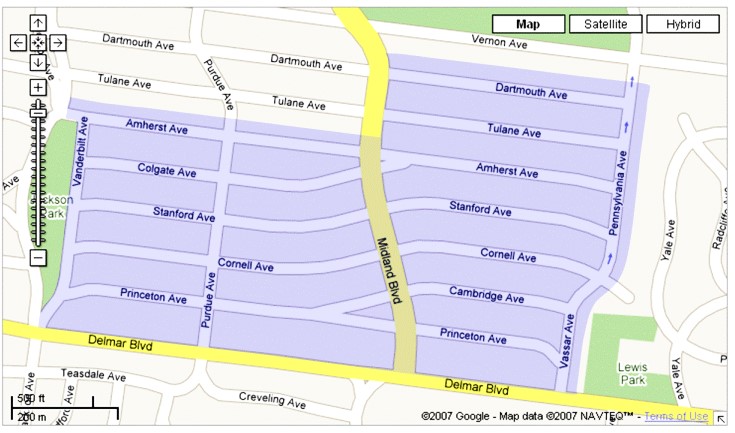 The University Park Subdivision plat map, dated March 28, 1922, remains surprisingly accurate after almost 90 years.
Some changes have occurred: the home sites on the west side of Vanderbilt, in what is now Mooney/Jackson Park), were never developed
The extensions of Dartmouth and Pennsylvania Avenues into the University Heights Subdivision are now blocked
600-800 Purdue Avenue
600-800 Vanderbilt Avenue
706-858 Pennsylvania Avenue
612-668 Vassar Avenue
7100-7371 Princeton Avenue
7100-7233 Cambridge Avenue
7000-7367 Cornell Avenue
7000-7369 Stanford Avenue
7000-7379 Amherst Avenue
7005-7156 Tulane Avenue
7000-7159 Dartmouth Avenue
7200-7369 Colgate Avenue
7069-7375 Delmar Avenue
600-900 Midland Boulevard
The subdivision is within the city limits of University City and residents pay the full rate of city taxes. However, as a private subdivision, University Park is responsible for the maintenance of the streets, sidewalks, curbing, trees, and common-grounds in the Subdivision.
University Park Subdivision is bound by a 51-page Indenture, originally drafted and adopted in 1922. Not only does the Indenture set the physical boundaries of the Subdivision, it outlines the duties and responsibilities assumed by the Subdivision, as well as the procedures and regulations under which the Subdivision operates. This Indenture is a legally-binding document, recognized by both the state of Missouri and the city of University City.
Points of interest in the Indenture include:
University Park Subdivision is governed by a three-member Board of Trustees. The Trustees are elected by property owners in the Subdivision. The Board of Trustees oversees the overall maintenance and upkeep of the Subdivision
When making an addition to a property, any residence, garage, out-building, or deck must meet requirements listed in the indenture regarding materials, size, set backs, etc.
In order to verify that all new construction is within the constraints of the Indenture, two (2) members of the Board of Trustees must approve a set of plans before the plans can be submitted to University City for a building permit
A regular assessment is levied annually on all properties in the Subdivision by the Board of Trustees. The Board of Trustees also has the option to charge a special assessment each year